Certified 5 Star Plus Reviews
Ref. Den Mender - Yelp.com
Alex is awesome! He is extremely knowledgeable, professional, and accommodating. I was able to get an appointment the same day I called. The price to get my dent fixed was far cheaper than other dent repairs. Best dent mender in the Bay Area!

Carol L.
Alex was working on a trusted neighbor's car yesterday as I walked by. Since he was just finishing up, I asked him if he had time to look at a big fold in my convertible's passenger door, which I had estimated at a body shop at $4K. He did that and a 2-inch dent in the fender for $200, and it looks beautiful. He's experienced, a problem-solver and easy to work with. Thanks Alex!

Harry A.
Very Professional. Works around your schedule and does great work! I highly recommend Alex for any of your dent repairs. He finished my car in less than an hour and it looks good as new.

Jme B.
Dent Mender! Thanks for the great work on my dent! I had a dent on my car from 3 years ago and didn't know who to trust to fix it. I didn't want to take it to a body shop cuz it was too expensive, so Dent Mender came to the rescue at my JOB! Very knowledgeable and professional about their work!

Ryan W.
I got a door ding from some evil swine. I looked up PDR and Alex came up. He is the man. Very quick and superior job. I can't even see it anymore. It's like nothing happened at all. Excellent PDR guy. If I got any more dings, I'll make sure to call him

Alan S.
This is the second vehicle of mine that he repaired.  I was so satisfied with the first job, that I did not get any other bids on the repair. I HIGHLY RECOMMENDED DENTMENDER.

Cal T.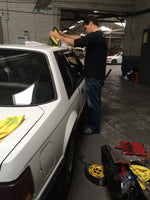 Alex Rubin - Business Owner
Dent Mender has been serving the Bay Area since 1996. Our mission is to provide affordable dent and ding removal service in a friendly environment. With over 19 years of success, we look forward to adding you to our long history of happy customers.